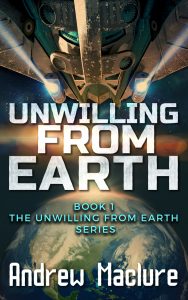 Mark's mundane existence takes a drastic turn when he stumbles upon an alien in his workplace. Desperate for escape from his monotonous life, he pleads to be taken away for what he thinks will be a fascinating tour of the galaxy. But things don't go as planned, and he soon wishes he had stayed back on Earth!
Unwilling From Earth
is an exciting and humorous military science fiction adventure with an innocent budding romance and cool battles. You'll join Mark as he faces off against alien enemies and tries to save the galaxy. Will he survive, defeat the psychopathic reptile, and get the girl of his dreams (
or nightmares!
)? Maybe not, but he'll certainly try!With plenty of action, humour, and suspense, this gripping story will keep you engaged until the very end. And with reviews comparing it to "Hitchhiker's Guide to the Galaxy" and "Starship Troopers," it's clear that this is a must-read for any sci-fi fan.But this isn't just a story of alien battles and epic adventures. Along the way, Mark discovers the complexities of relationships, allies himself with a powerful race, and learns to navigate the unpredictable twists of fate. He also discovers the true meaning of courage and the power of friendship.As one reviewer put it, "You know a book is good when you don't actually read it, you live it. You're not on your couch or your favourite chair flipping pages, you're in another place or time."This compelling story is a must-read for anyone seeking an adventure that will transport them to another world. So, join Mark on his unforgettable journey and see for yourself why "Unwilling From Earth" is a book you won't want to miss.
Click to take you to the Amazon page for your country