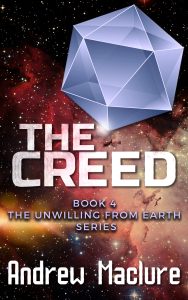 The team are back!
Two years on from the war against the Slarwin, Sally and Mark have been leading the team into rescue missions against outcasts all over the galaxy – which is what the army are for. But, the team aren't being challenged. It's all just business as usual and they are getting restless, and Mike is getting even more grumpy and intolerant than normal.
When a mysterious, slow, but steady increase in the number of outcast attacks is detected, Mark decides it's time to do something about it. But first, they have to find out what's causing it.
Sally puts together two unlikely partners to go undercover to find out what's happening and sends her old friend Renny, the Explorer, along with them to help make contacts. It all seems quite straightforward, and things should run smoothly. Shouldn't they?
Follow Mark, Mike and Renny as they embark on a new adventure filled with action and humour. Get
The Creed
now.
Click to take you to the Amazon page for your country