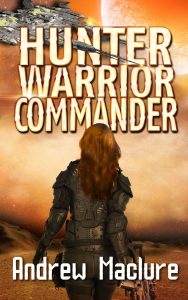 Hunter Warrior Commander is a standalone book set in the Unwilling From Earth universe four and a half thousand years ago. It tells the story of Sah Lee, or Sally as she is known to Mark. The story explains how she became the person she is now, how she became leader of one of the most powerful armies in the known universe, and why she has an apparently irrational hatred of Alan.
You do not have to have read any of the Unwilling From Earth books to enjoy this story.
*****
Get ready for an epic journey filled with intense action, compelling characters, and an unforgettable storyline. Hunter, Warrior, Commander is a powerful military science fiction novel that will leave you on the edge of your seat from start to finish.
Meet Sah Lee, a warrior consumed by rage and hate after witnessing the devastating effects of an unprovoked attack on her peaceful planet and the death of her closest friend. Determined to seek revenge, she joins a hostile alien army in her quest to become the warrior she needs to be.
This standalone book is set in the People's universe from the Unwilling From Earth series. With unforgettable characters you'll care about and non-stop action, Hunter, Warrior, Commander is a must-read for fans of military science fiction. So, grab a cup of coffee, clear your schedule, and get ready for an all action adventure that'll leave you breathless.
Click to take you to the Amazon page for your country