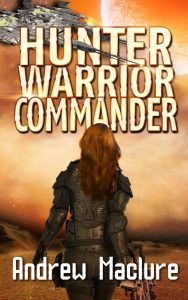 Sah Lee is a young hunter on the dry plains of Aarn, a peaceful low tech planet.
Her world is attacked by forces beyond her understanding and she turns into a remorseless killer of the invaders but cannot prevail against them. Rescued by creatures she mistakes as demons, she vows vengeance and has to grow up fast and try to survive in a tough and uncompromising alien army.
"I have seen the aliens that attacked us, and I have fought and killed them. I have seen my closest friend, my soul mate Tir Mal, slaughtered in front of me. I have changed. I am not the person you knew. I am full of rage and hate. I can feel it burning inside and it is consuming me."
If you have read Unwilling From Earth you may recognise Sah Lee as Sally and some other old friends including Alan (Ker Din Ser Forn), Simon (Si'ir Monn) and the Krendor, Kar Fen. See if you can spot any of the other characters from Unwilling From Earth who make brief appearances.
You can read the first three chapters for free by clicking on the links on the right. If you would like to join my readers group for advance notice and occasional free stuff, click HERE to go to my Mailchimp signup page.
Order from Amazon US,  Amazon UK or Amazon Australia now.
Don't have a Kindle? Download the free Kindle reading app for your iPad or iPhone from the Apple AppStore, for your Windows PC, laptop or tablet from the Microsoft Store or your Android phone or tablet from Google Play.